Own a Lenovo laptop or seen an suspicious adverts relating to your online shopping habits? Maybe you have been stung by this.
Over the long break Lenovo had a few problems with their new computers. They decided that they would help users by installing software called "SuperFish" that looks at what your purchase on that computer and tries to match similar products you may be interested in.
If that doesn't make you feel a bit violated yet it also caused a number of problems for people using their new computers with this "malware" installed on it.
A number of Security Researchers such as Sophos (you can read the detailed article here) have studied the program and found that they also let hijackers pretend to be what ever website they want. So you think you are on your banks website but in reality you are sending your bank details to someone some where in the world.
Removing the software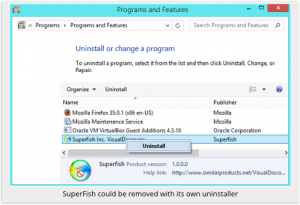 So now that Lenovo have installed this software, or if you have just found yourself with it as an unwanted addon to another program, what do you do? The developers of the software have not intended for anything to be malicious in this case, so luckily it is very simple to remove and can be done using the software's uninstaller.
The software is called SuperFish but you can also look out for another similar program with the same problem called PrivDog
Windows 8/8.1
Swipe in from the right edge of the screen, and then tap Search.
(If you're using a mouse, point to the upper-right corner of the screen, move the mouse pointer down, and then click Search.)
Enter control panel in the search box, and then tap or click Control Panel.
Under View by:, select Large Icons, and then tap or click Programs and features.
Tap or click the program, and then tap or click Uninstall.
Follow the instructions on the screen.
Windows 7
Open Programs and Features by clicking the Start button , clicking Control Panel, clicking Programs, and then clicking Programs and Features.
Select a program, and then click Uninstall.
It is really that simple. Once you have done this the offending software will be gone.