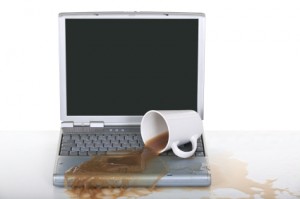 Laptop computers don't get hungry and they don't get thirsty but time after time we see people being in their well hydrated and well fed laptops. Just like Mark from Victoria Park managed to give a cup of coffee to his laptop yesterday afternoon and wondered why it stopped working a few minutes later.
Liquids cause all kinds of damage to laptops, keyboards, mobile phones and just about any other electrical device you can think of. So when Mark came in wondering what was going on with the laptop we quickly informed him of the dangers of water damage on electrical equipment. In the end he was lucky. He brought the computer in for us to work on fast meaning that there was minimal damage to the internal parts.
Mark made it in from Victoria Park to deliver his laptop to us and he was glad he did.