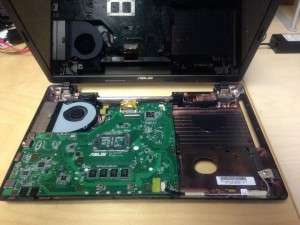 Last year Asus only held 6.3% market share for laptops all over the world. While it sounds low it is still the 5th most common laptop available. We still manage to find a few of these make their way into our East Perth workshop every day with different problems. The most common Asus repairs we perform would have to be the laptop's screen, the keyboard and the battery. Thankfully these are all easily replaced by us and for far less than you would expect.
If you need anything upgraded, like the RAM (Memory) or the Hard Drive (Storage Space) just give us a call and we should be able to quote you over the phone.
Need a Repair?
or visit our workshop at
75B Brewer Street, Perth
Easy and Free road side parking at our store
Asus repairs are generally a little harder than other brands but are definitely not the hardest brand to repair. For more details on the types of Asus repairs we can do for you check out our Laptop Repairs page.
Why do we repair Asus laptops?
Asus do not have a large repair base in Perth and with the amount of laptops we see per day i can only imagine the volume of computers they have to deal with. A number of our customers have reported that out of warranty Asus repairs have taken up to 3-4 weeks to complete.
With Computer Mechanics we do all Asus repairs in our East Perth workshop. We have the fastest Asus repairs turn around with parts being 1-2 days away if we don't have them in stock.